We praise GOD for another opportunity to be a part of the great army of individuals that will move forward into the Country of Ghana to share the Good News of Jesus Christ!  Please keep all Missionaries in your prayers as they build on the work that has already taken place.  They will be moving northward into the rural part of the nation. We praise GOD for the victories that will take place during their time of  evangelism, leadership training and nightly services.  All Glory be to GOD for all those touched.  Come back periodically to read the praise reports that are taking place in the field.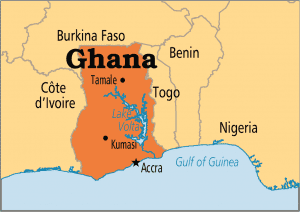 UPDATE: 5/14/19
The team has touched down and is situated in our hotel rooms. Our first stop was to Assembly's of God Ghana church where we ate lunch and were also introduced to the host pastors. Here we were able to introduce ourselves and express our pure gratitude to God for all that He is about to do!! We were also broken down into four dynamic groups, for carrying out our assignments for the rest of the week. We received our agendas which includes street evangelism, visiting schools, psych wards, orphanages, and local churches. The Ghana team is beyond excited to tear up the kingdom of darkness and do a great work in the Name of Jesus!!! We are in the hotel now getting some rest, then we'll go back at it for dinner. The most amazing part of this day is learning that this year is The Year of Return. This marks the 400th year after the slave trade ended and all of Africa is celebrating by welcoming blacks of all backgrounds. And we certainly have been welcomed with open arms and open hearts!  -Mia Wynn
UPDATE: 5/15/19
Today was amazing! The teams started out by visiting two schools in Accra. Half of the group went to a public school and the other half went to a private school. The children were so happy to see us and receive what the missionaries had to say. One team reported that the children saw them as celebrities and asked for autographs! Darius ministered in dance and was asked by a child if he could teach her! The love and yearning by these children was so strong that we were literally almost knocked down by their embrace. Later in the day, we went to Christ Faith Foster Home. The missionaries danced and sang with the children and held a service where Assistant Pastor Derrick Greene gave a word. After the service we broke down into teams of two and ministered to the different age groups. Upon arriving, we were informed that some of the challenges the foster home was having included a lack of clothing, textbooks, and school supplies so in true Kingdom style we came together to sow a seed. With our seed, we were able to purchase enough supplies for two terms! Amen!! Later in the evening we went off in groups of four to the churches that were assigned to us the previous day. We ministered the word, danced, prayed, sang, held an altar call and laid hands as the Spirit led us. We believe that heaven rejoiced for the work that was done in Ghana today, and we can't wait to do it all again! -Mia Wynn

UPDATE: 5/17/19
Today was AWESOME! Our first mission of the day was to visit the psych wards. The team broke down into two dynamic groups and ministered to the patients. We were also able to bless the patients with a moving dance ministry performed by Darius Jones, Anisa Barton and Ms. Shelly from Rhema International Ministries.
 

Next we were exposed to some of the local cuisine such as fufu, peanut soup, goat soup and more! After lunch, the teams headed back out to evangelize on the streets. We're proud to announce the we won souls for Christ! The highlight of the day was our final visit to our individual churches. Each team was instructed to give it all they've got. Our exact instructions were to "empty the tank" and we did just that. The altars were filled and so were the hearts of the Ghanaian people and missionaries alike! We saw God move through each and every member of our team and we all agree that we will never be the same. We also agree that leaving is going to be difficult because we feel so at home. We truly feel God's love through the hearts of the Ghanaian people. We feel connected and we thank God for that. -Mia Wynn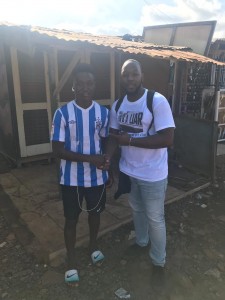 UPDATE: 5/18/19
Today was a lighter ministry day. We started off the day by attending a church leadership meeting where Pastor Francis of Endtime Revival Center hosted our own Bishop Daniel Robertson Jr. and Pastor Julian Dangerfield. Bishop gave a mighty word on leadership and the support systems in the church, stemming from the pastor down to the congregation. When he was finished, he opened the floor to questions, which he and Pastor Dangerfield answered. When the meeting was over, we were served lunch and fellowshipped with our Ghanaian brothers and sisters. Later in the day, we were awarded the opportunity to visit the botanical gardens. Today was yet another amazing day in the motherland! -Mia Wynn